Before I go into details of what could have possibly been THE single worst trip of my life, I wanted to say that I am sooooo excited to be a part of a wonderful blog, Chic Chat! The ladies are awesome and have invited me to join in contributing to the blog with them. It's an all-topic, all- encompassing, everyone welcome type of place to be! We're re-launching the blog today, so come along, won't you? :) Just follow the cute little box below! :)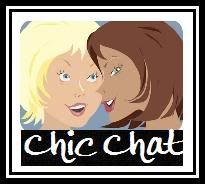 *************************************************************

My trip, is quite possibly the single worst trip ever. Before this, I would have told you that it was my 3rd anniversary trip that would have taken that award, but by far this trip has taken first place.

It started Thursday, with a lonnnnng morning with the kids. I was finishing packing, and also trying to get the house cleaned, because I am one of those weird people who cleans before vacation. By the time 3pm rolled around and we backed out of the garage, I was exhausted and dreading the 5 hour drive.

We got about 2 hours down the road and my phone rang, it was mother in law. Come to find out, their flight is delayed, and not just by a little bit. By 5 HOURS. I was running on time, giving myself just enough time to get to the airport and greet them at their gate at 7:30pm. Now, they didn't even take off until 10:15 pm.

By the time their flight landed, and the taxi cab driver got lost and called asking for the hotel phone number, it was almost 2am when they walked into the hotel room.

Did I mention that we had a 4:30 am wake up call? Yep. Ugh. :/

Rewinding back, the car ride down with the kids was definitely an interesting one. We've taken them on several lengthy car trips, but this was my first one that I had done alone. It could have been a lot worse, but I was hoping it would have been a lot better.

We arrived at the hotel, exhausted and hungry. I called in pizza to appease us all, and realized that we had no milk for son. During this time, about 20 min after checking in, the fire alarm goes off in the hotel. It sends daughter into a panic because she thinks there really is a fire, and it also sends son into orbit since he has over sensitive hearing now with the tubes in his ears. Oh, good times. Incidentally, said fire alarm also shut down the elevator and it didn't work again the whole time we were there (which was only about 3 hours, mind you) but it meant that we had to carry our luggage up and down 3 flights of stairs.

Waking up the next morning- or a mere 2.5 hours after we went to bed- was pure hell. The kids were exhausted, we were all grouchy, AND we were running late. Very late. We did make it on time though, to what I will forever refer to as the most in depth embarkation process in my life. We have been on many cruises, and this one was by far the craziest thing I had dealt with. It took over 40 sheets of my printer paper to print out all of our paperwork, and it took equally as much work to get on the boat itself. Whew.

For those that have ever been on an actual cruise, this boat is not that. It's merely a cheap way to get from the US to Freeport, and is often the method of transportation that the Freeport natives use to come to the US to shop. Everything over there is so expensive, that it's just cheaper to come over here and shop. Of course, there are people that use it for vacation purposes as well, because it's much cheaper than flying. So they do have activities, a casino, restaurant and gift shop on there. However, with that they also slow the boat wayyyy down in order to make money off of you. So while Freeport is a mere 55 miles off of the coast of Florida, they take 5 hours to get there. Plus at least an hour to get on and off the boat. Each way. OMG.

Once in Freeport, we were literally beat. We finally made it to our hotel at 3pm and checked in. We did manage to ask about an upgrade, a tip I learned while reading reviews of the hotel, and so we got an ocean front room for the same price. :) It was a gorgeous view! The hotel was far above and beyond what I was expecting, and the service, while slow, was excellent. But, after such a long and time consuming journey, we only had a couple of hours of beach and pool time before dinner.

Dinner was interesting- we walked into a restaurant that literally looked deserted. we later figured out that even though it was already 6pm, we were apparently early compared to when most people there dine. We unknowingly were seated in an area where local music was being set up to play, but it really added to the atmosphere. once they started to play, the masses of people swarmed the area and started to dance. By this point, daughter had fallen asleep at the table, and son was out dancing in the middle of the aisle (I'll try to post video of this at some point).

We ate our dinner, and woke daughter up to leave. As we are leaving, she literally just pukes in the middle of the restaurant floor. We were really shocked because normally she doesn't just throw up out of nowhere, and definitely not without telling me. It had to be from sheer exhaustion and traveling, because she was perfectly fine the next day. But, you can imagine my stress level by this point. Nothing has gone right, son is so tired and whiny, daughter has just puked, and I have lost what tiny bit of patience the sleep deprivation hadn't taken from me. We turned in early that night, for sure.

Waking up the next day, it was storming and so our actual beach and pool time was limited to about 4 hours...total. We decided to walk across the street to a local market, just to do something in the rain.

Keeping in mind that the Bahamas do not typically have franchised things- they have no Walmart, no major chains of anything- I was quite surprised when we found a Hello Kitty (Sanrio) store in the market. Daughter loves their stuff. Ever been in one of those? It's not your $2 Hello Kitty notebooks that you see in Target- it is $50 charm bracelets and even more expensive luggage, with some lower priced things mixed in. I happened to notice a good amount of seats (maybe 15-20) lined up out in front of the store, looking terribly out of place. But, my brain was fried and I never thought that something might have been going on. Not wanting to have son tear up the whole store, I took a seat outside and let daughter go in.

Then, in a dream like scene out of a movie, a crowd of people come out the door in suits and dresses. Am I in the middle of a wedding, a funeral? Here, at a Hello Kitty store?? I finally decide that I have no choice but to ask if I am about to be a part of something that I shouldn't be a part of, and I learn that it's their grand opening at that very moment.

This could only happen to us.

Here I am, seated with my overly active and loud 2 year old, in the midst of about 15 beautiful and well dressed Bahamian people, about to take part in what appears- according to the program- to be a very lengthy opening ceremony. Complete with pink and purple ribbon cutting.

I decide at the last minute that I need to get out of there- I figured either way, I'm most likely being disrespectful, but I'd much rather see the ceremony from inside than to be out there having son cause a scene. But what I didn't know, is that when I ducked into the store, mother in law did not follow. I look back out a few minutes later, and here she is standing there looking around while they are singing their national anthem, and I officially am about to burst into fits of laughter. It could be a "you had to be there" moment, but it was by far the funniest point of the trip. it turns out that if we would have been able to stay, they were going to let daughter walk through the ribbon. Why? Because she's following in my shop-a-holic footsteps. She was the first customer ;) I've tried to find an article about it online, but I can't. Trust me though, you don't make this kind of stuff up. :) We were in a rush to get back to catch a taxi to the boat, otherwise it would have been really neat to see the ceremony and let daughter be in it :)

The boat ride back was, well, hot for starters. Our air conditioning in our cabin wasn't fantastic, but it wasn't worth complaining over for a 5 hour ride. We sailed back through a storm, and it's felt a lot more on a boat like that then it is a big cruise ship. Thankfully, no more puking. Beyond that it just felt like it took forever, and once we pulled into port, I made a comment about how I felt like I was coming back from war. (No offense to soldiers, I don't mean real war, I mean personal war ;)) Upon pulling into port, we learned that my grandpa (a different one) has fallen ill and was put into the hospital while we were gone (his wife was the grandma that was on the trip with me). He is hopefully on the mend, but sadly I think that this past trip will be the last one my grandma makes, as she is now plagued with guilt for leaving him in the first place. I just wish our trip would have been much better, if it was her last then we definitely ended on a sour note- not on our terms personally, but just with a crappy trip.

The next morning, I dropped off my grandma, mother in law, and daughter at the airport. Daughter has gone back to WV to visit for a week or so, at which point I will pop a Valium and fly up there to get her ;) Daughter was trying not to cry- she wanted to go, but was still a little sad, just as you would expect a kid to be. Son and I made the journey home, and I was EVER so glad to be here. I've since talked to daughter and she's doing fine- I even called to ask her if she wanted me to sign her up for soccer this fall and she said yes, and gymnastics. But not dance. This saddens me greatly that my kid is already ready to take a break from dance! She does so well, but if it's not her passion then I cannot force her :/ Ugh, they grow up so fast!